Enter the Schaeffler manufacturing base and experience cutting-edge manufacturing excellence
On June 25th, sponsored by Shandong Economic Development Committee and Shandong Small and Medium Enterprise Development Service Center, Liaocheng Industrial Park Intelligent Manufacturing Innovation Service Center organized the "Intelligent Society·The 4th Benchmarking Enterprise to Visit Schaeffler" Schaeffler (China) Co., Ltd. Taicang Branch was successfully held.

On the spot, more than 50 representatives from manufacturing companies entered the benchmarking company Schaeffler Taicang Branch to learn advanced manufacturing experience. The visit was warmly received by Schnabel Wolfgang, senior director of the Special Equipment Division of Taicang Branch of Schaeffler (China) Co., Ltd.
At the opening of the event, Ye Xuanchen, the person in charge of the Intelligent Manufacturing Innovation Service Center of the Industrial Park, introduced the concept of "Intelligent Society" brand and the activities of the series.
Then, Schnabel Wolfgan, Senior Director of Schaeffler Special Equipment Division, and Senior Manager Zeng Yaodong elaborated Schaeffler's development history and market layout from the perspective of corporate culture.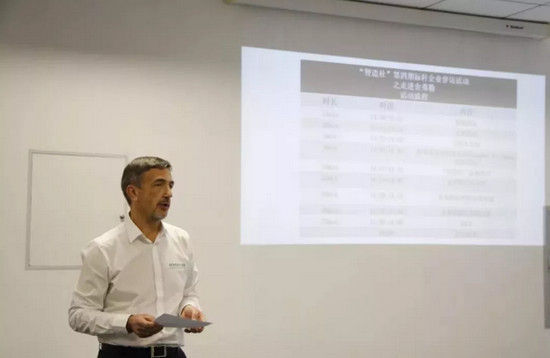 During this Schaeffler visit and study, representatives of various manufacturing companies first visited the Schaeffler Special Equipment Department to get a close look at Schaeffler's outstanding innovations in the direction of equipment manufacturing. The visiting team came to the Schaeffler manufacturing base, and the company representatives were deeply impressed by the Schaeffler workshop and advanced production lines.


After the visit, representatives of the manufacturing companies had a heated discussion about the income at the Schaeffler plant. At the meeting, representatives from a number of companies said that the visit to Schaeffler has benefited a lot, and hopes that there will be opportunities to further learn relevant experience.

So far, the "Into the Schaeffler visit of the Zhijianshe·The Fourth Benchmarking Enterprise" was successfully concluded. The event will be a representative of the benchmarking company, Schaeffler in-depth visits and visits, creating a good industry learning exchange platform for the manufacturing enterprises of the park, for companies to learn from the benchmark business experience, to promote the high-quality development of the park manufacturing industry Innovation-driven development adds a force.